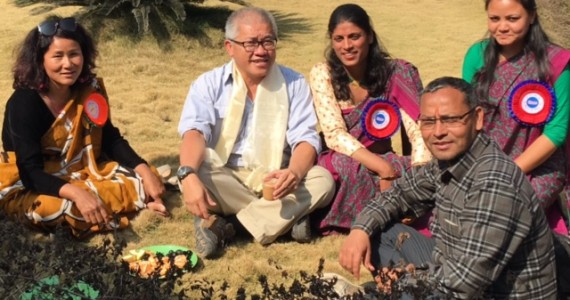 Krishna Regmi,
This is the latest update
Yesterday, I and our contracted builder (the one who will be building the roof truss) arrived into Dhading village.
We marked up the measurement for the basement of School perimeter. We then told the local villagers to provide the labour to dig the land as per according to our plan size. This they did willingly.
We also ordered a truck full of sand, a truck full of small pieces of rock materials and 15 sacks of cement for the basement building of structure.
As I have mentioned to you, that the village is still without electricity. So in order to do the welding (joining all the iron rods together and to each other) we then decided that all the folding truss will work on the NUTBOLT system. This is pre-soldered and now almost ready in Kathmandu for transportation to Dhading.
Probably, we will have it delivered ( all the truss and materials) by this coming Monday to the site in Dhading.
Once this is delivered we can start work to put these together.
Delivery to the site will be an issue. As you know that we will have to human carried them from the main road to the village. This will involve a lot of man power and man hours to finally have it at the site.
Firstly , we need to unload all the building materials from the suspension bridge , off the main road., Using human labour we then carry all them all across the suspension bridge, upload onto another lorry and walk to Dhading. Hopefully we can do all this in one full day of work.
Till then its finally happening.