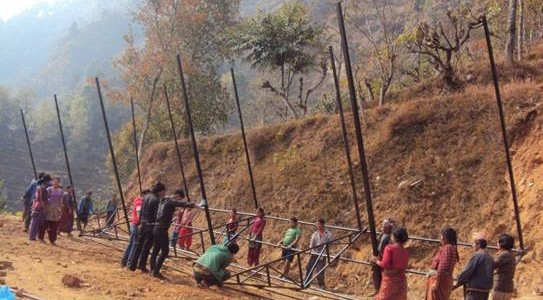 By Tin Wong,
After the long and tedious task of negotiating with Nepal's bureaucracy and going through the proper channel, we managed to come to an agreement for the project to go ahead. AUG teamed up with PA Nepal (Prisoner Assistance Nepal) to initiate rebuilding the school, 10 months on after the earthquake hit this region. Yes, it took us this long to come to an agreement but it's better late than never, I suppose!
We would like to take this opportunity to thank to our man on the ground, Krishna, who has been most persistent, will lead and supervise the whole project on our behalf. As you can imagine, this task of rebuilding is enormous. Firstly he will negotiate for the land tenure, making sure that the school land is approved for rebuilding. Next, the land will need to be cleared of fallen debris from the earthquake. As Dhading village sits on a hill slope, this makes the task of clearing the land all the more difficult. But through all these problems and difficulties, Krishna has been patient and kept us all in the loop on the progress.
Stage#3 – Building the Structural Foundation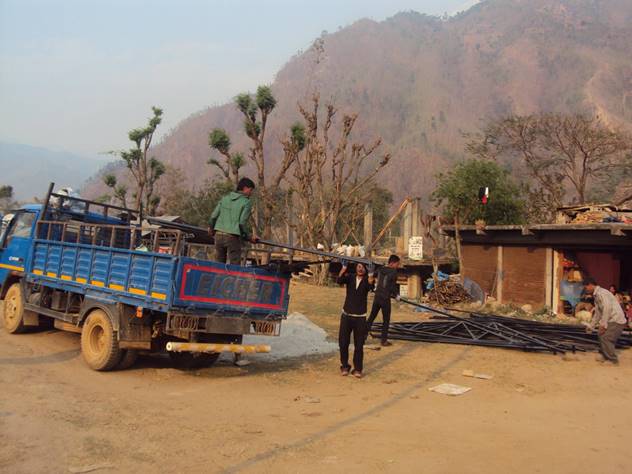 Iron trestles and cement being transported by lorries to the nearest point reachable by motor vehicles. From this point, manpower was required to carry them to the village.
Iron and steel welded together forming the support structure for the rooftop, and iron poles carefully measured and cut prior to delivery.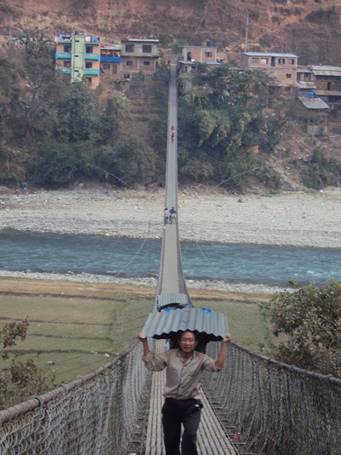 Each piece of material was carried from the main road, across bridges, to the village, which is a good 2-3 hours hike away. The unsealed path is also accessible by motorbike, although it is bumpy most of the way.
The iron poles and roof trestles being carried to the school site by the villagers.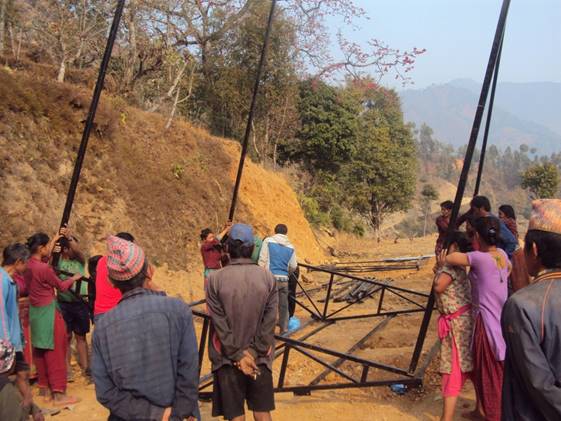 Here are the poles and trestles being assembled "upside down" then slotted in place.
Once this is done, everyone pitched in to "flip" it over to slot into the pre-dug column holes.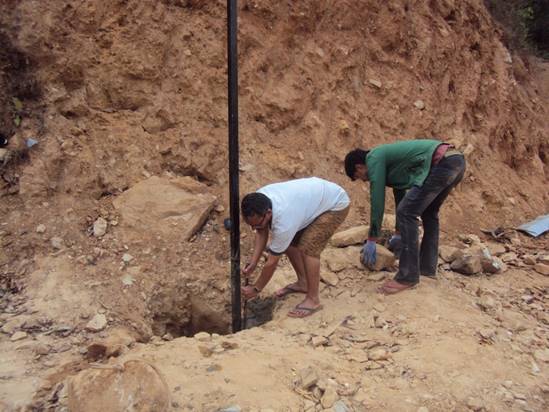 The column holes were then filled with cement to hold up the iron poles.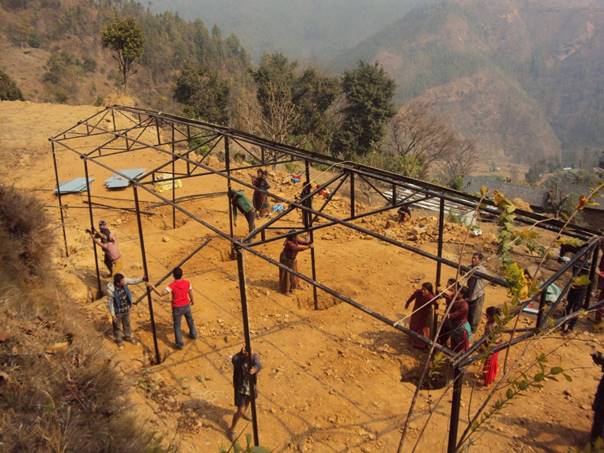 Making sure that the pillar structure is strong and will withstand future earthquakes.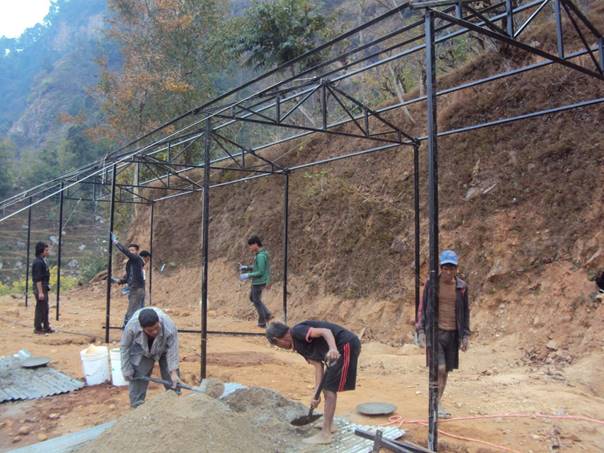 The cement mixture was poured into the column holes to hold the iron poles.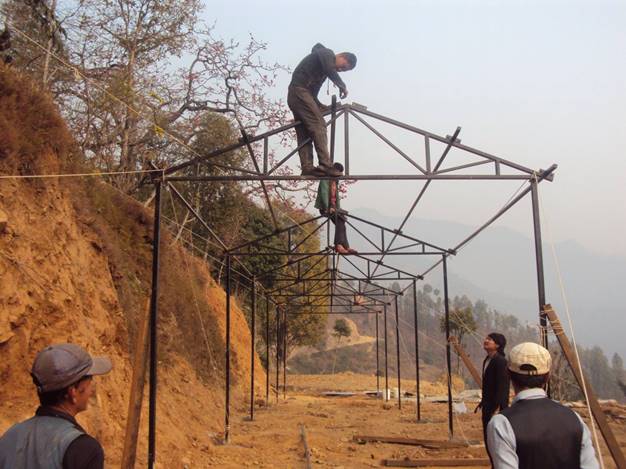 The contractor's team then took over the technical task of bolts and nuts. Here the roof top joints needed to be carefully bolted together and re-measured for the careful laying of the zinc top.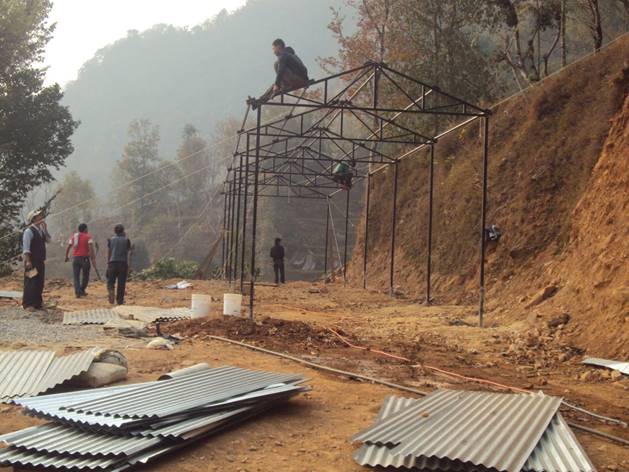 It's an able-bodied person's job from here on.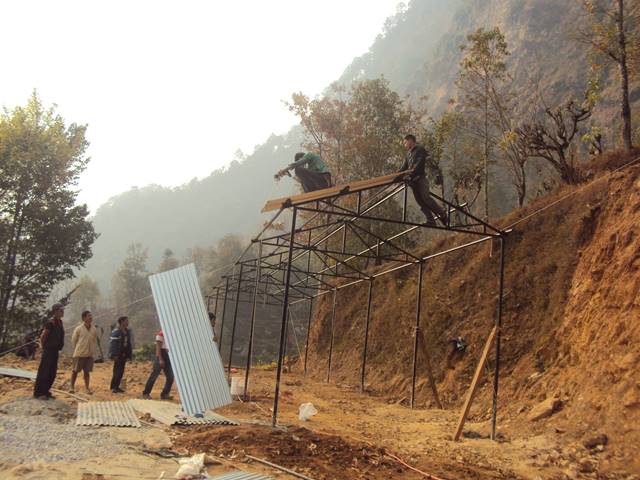 Piece by piece the zinc top was loaded onto the roof top for assembly and attachment.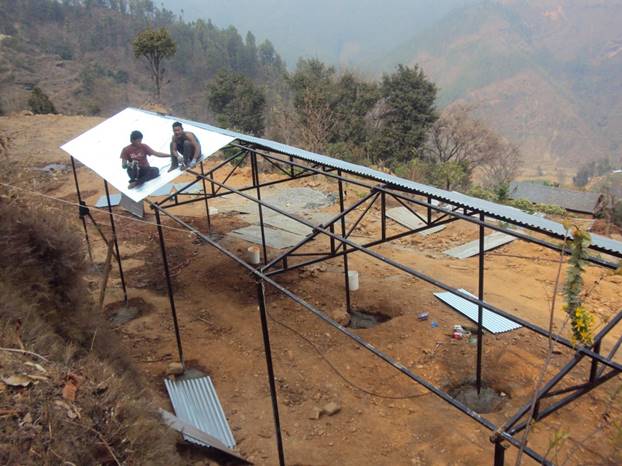 It looks good from the top.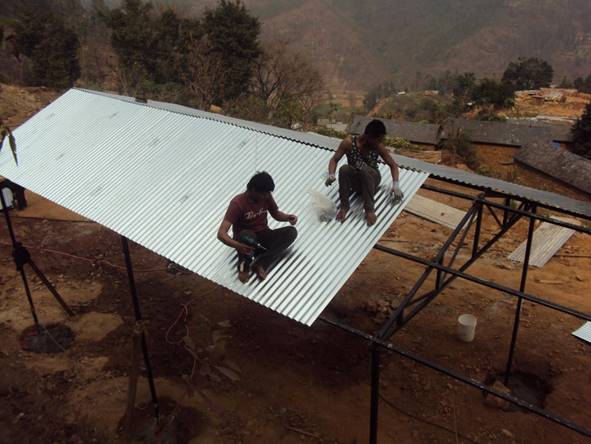 It was going to be night, but they were still at it…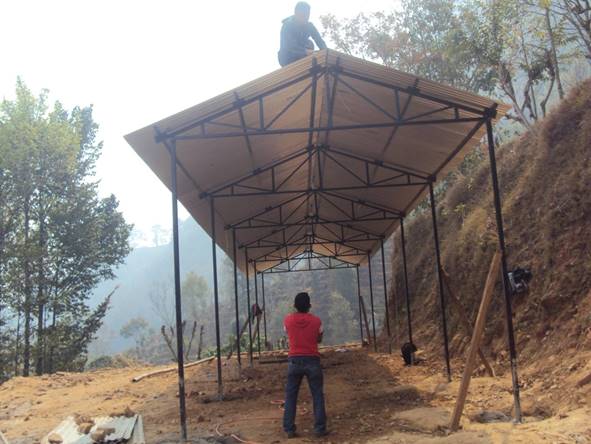 The supervisor was looking on.
Working hard till nightfall…finally nailed in the last piece.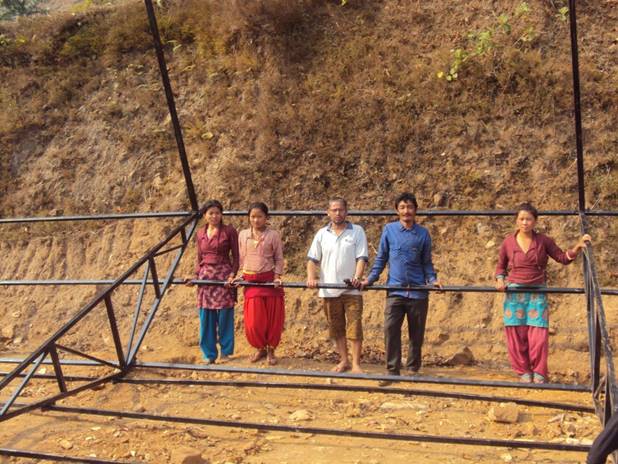 Krishna (centre) posing with the villagers.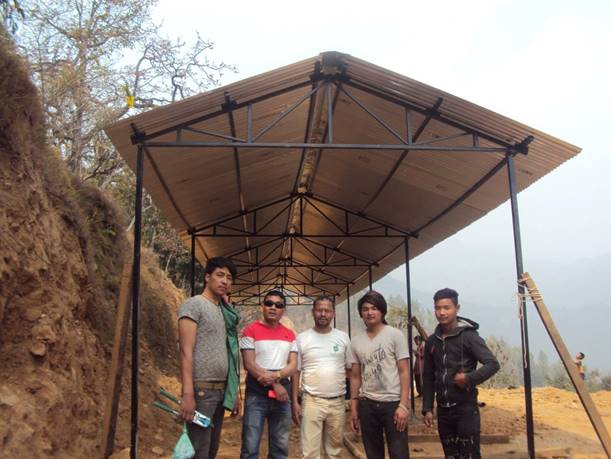 Krishna with the contractor's team of workers.
Now we know who the sesnible one is here. Great post!